Simon John Charles Le Bon.
Lead singer and lyricist for Duran Duran.
Net worth: 60 million
Simon has won three Ivor Novello Awards. Duran Duran won the Rock N Roll Hall of Fame fan vote and were inducted during the 37th Annual Rock and Roll Hall of Fame Ceremony held on Saturday, Nov. 5, 2022.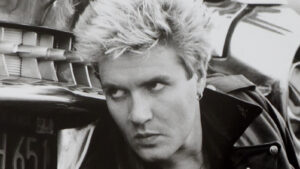 Born October 27, 1958, Watford Hospital, first-born son of John and Ann-Marie Le Bon. His younger brothers are David and Jonathan.
Early life: Simon grew up in London, sang in the church choir and was in a few TV commercials. (Simon was in a British Persil detergent tv commercial). He lived on a kibbutz in 1978 in the Negev desert.
Personal life; Simon is married to model Yasmin Le Bon, and they have three daughters. He is also a grandpa to Taro Arturo Compston and Skye Nouri Compston, children of Saffron.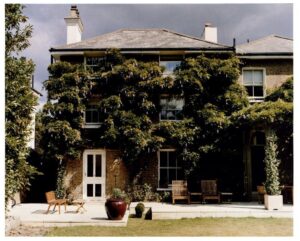 Where does Simon Le Bon Live?
Home: Simon and Yasmin Le Bon own Elmwood, a 10-bedroom Victorian home in the Putney neighborhood of London. The home includes a separate cottage, built in 1988, where Simon's mother lived. in 2014, six bedrooms were converted into three suites, and in 2021 the house was expanded by 33% so that the Le Bon daughters could live at home.
Side and Solo Work
Arcadia was formed by Simon Le Bon and Nick Rhodes in 1985 as a side project to Duran Duran while John Taylor and Andy Taylor formed The Power Station. Roger Taylor contributed to both projects.
Grey Lady Of The Sea for the Whitbread Round the World Race. Simon worked with Nick Wood to write the song and it was released by Sony Records and SYN productions in 1988.
Simple Joys. This 2009 EP by Beautiful Small Machines. The song was written by Bree Sharp and Don DiLego and was inspired by the film Blade Runner.
Follow In My Footsteps written by Simon Le Bon and Jonathan Elias for the Requiem For The Americas project: Jonathan Elias co-wrote this ballet with several rockstars including John Taylor and Simon LeBon of Duran Duran, Jon Anderson of YES, Grace Jones, Michael Bolton, John Waite.
SYN Entertainment Syn is an award winning music agency and creative solution that offers music strategy, composition, sound design and sonic branding for advertising, cinema and television. Simon established the organization in 1988, along with friend Nick Wood and wife Yasmin (Simon Yasmin Nick).
Dreamboy: Written and sung by Simon Le Bon and was featured on the soundtrack for the Mario Van Peebles movie Love Kills.
Fire, a song by DJ Ferry Corsten was a remix of Duran Duran's "Serious" and featured vocals by Simon Le Bon
Nobody Knows. Shinzou Sound is a group of creative collaborators specializing in manga, music, web design, and popular culture. Simon became a member of Shinzou Sound in 2006 and contributed to the online manga project, 'Synesthesia', by co-writing the theme song 'Nobody Knows' along with Nick Wood.
Record Collection. Simon sang the chorus of this song with hip hop artist Wiley. The song appeared on Mark Ronson's album. Ronson produced Duran Duran's 2010 album All You Need Is Now, and 2015's Paper Gods.
WHOOOSH! with Katy Krassner. WHOOOSH! is a radio show where Simon and Katy discuss the songs that Simon chooses to play each week.
A Few of Simon Le Bon's Favorite Songs
'Changeling' – Simple Minds
'Need You Tonight' – INXS
'Somebody Told Me' – The Killers
'Heatwaves' – Glass Animals
'House of Bamboo' – Andy Williams
'Gloria' – Patti Smith
'Kinky Afro' – Happy Mondays
'Connected' – Stereo MCs
'I Live to Move It' – Reel 2 Reel
'Rebel Rebel' – David Bowie
Simon Le Bon Famous Quotes
"That was the whole point in forming a band. Girls. Absolutely gorgeous girls."
"Don't run too much. You'll fuck your knees up."
"Fellatio sounds like a character from a Shakespeare play."
"Music is a healing force. Music makes people feel they're not alone in the world."
"Music is not supposed to be nationalist. It is supposed to surpass language barriers. It is about generations communicating with each other."
On Harry Styles: "he seems to be a decent chap. That makes me think he is handling it all very well."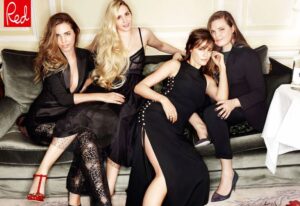 A Few of Simon Le Bon's Favorite Songs
'Rebel Rebel' – David Bowie
'Changeling' – Simple Minds
'Need You Tonight' – INXS
'Somebody Told Me' – The Killers
'Heatwaves' – Glass Animals
Simon Lebon's Favorite Places To Perform
The Morumbi Stadium in Sao Paulo, Brazil
The Roman amphitheater in Verona.
The square in Rome.
Simon Le Bon's Favorite Music Videos
Britney Spears' Toxic
Simon Le Bon's Favorite Books
Did you know? Simon is a huge science fiction fan.
The Quantum Thief by Hannu Rajaniemi – "A novel about a society way in the future, to label it simply as science fiction would, I think, be to do it an extreme injustice, in the same way that it would be also an injustice to the body of work by great novelist Iain M Banks."
Books by Alastair Reynolds

–

"I've been reading Alastair Reynolds' books. I've read three so far – Revelation Space, Chasm City and Redemption Ark. He's bloody good. Science fiction has different genres – this one is 'Big Space Opera' which makes it good enough in itself really."
Simon Le Bon & Drum
Drum was Simon's 78-foot maxi-yacht that he co-owned with and Paul and Michael Berrow. (Paul and Michael Berrow were owners of The Rum Runner club in Birmingham, and sons of the club's original founder where Duran Duran got their start. The Berrow brothers eventually became the band's managers and record label owners.) As a trial run before the Whitbread race, Drum participated in the 1985 FastNet Race. During the race off the coast of England, the keel broke and the yacht capsized while Simon was napping down below. Simon and many other crew members were trapped under the hull for forty minutes, before being rescued by the Royal National Lifeboat Institution.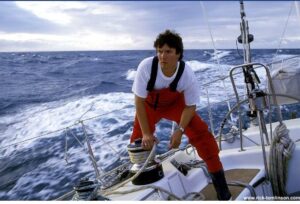 Simon Le Bon's Favorite Places
Croatia and the Dalmatian Coast, especially the Kornati National Park.
Trivia
Did Simon Le Bon really almost drown will filming The Wild Boys video?
No. However, according to Nick, if you get the DVD "pause it, you can keep his head underwater for as long as you want."
The name "Le Bon" means "The Good".
Before joining Duran Duran, Simon was in a many bands including Dog Days, Eddie and the Hotrods, Rob Ostrov, and an R&B band called Bolleaux.
Simon's girlfriend, Fiona Kemp, (a barmaid at the Rum Runner) introduced him to Duran Duran in 1980.